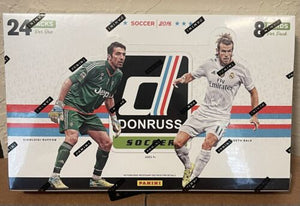 Configuration: 24 packs per box. 8 cards per pack.
PRODUCT HIGHLIGHTS
- Donruss brings the biggest names in soccer to collectors of all ages! Find players from all over the world, like superstars Cristiano Ronaldo, Lionel Messi, Robert Lewandowski and more!
- Find the very first cards of more than 20 up-and-coming players in Donruss Debuts! Look for at least two Donruss Debuts per box!
- The Beautiful Game autographed insert boasts a star-studded checklist. Find the first officially licensed autographs of one of the biggest legends of the game, Diego Maradona!
- On average, every box of Donruss delivers 24 inserts and 24 parallels! Look for rare cards that include autographs, die-cuts, Canvas stock and mosaic parallels!
BOX BREAK
- 24 Inserts
- 24 Parallels
- One Autograph Or Canvas/Mosaic Parallel Per Box