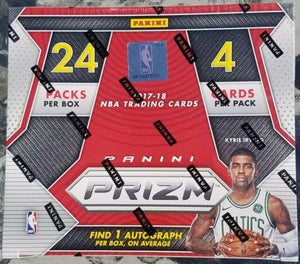 Configuration: 24 packs per box. 4 cards per pack.

PRODUCT HIGHLIGHTS
- Find exclusive sequentially numbered Prizm parallels and unique content in every SKU!
- Every SKU of Prizm basketball has the chance to pull autographs of veterans, rookies, and legends!
- Look for new inserts Fundamentals and Get Hyped!
- All SKUs contain Green Prizms that can only be found at mass retail.
- Each box delivers 1 autograph and 12 Prizms on average!
- Look for exclusive Pink Pulsar Prizms #'d to 42!