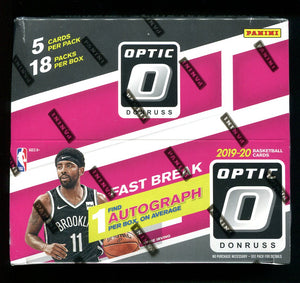 Configuration: 18 packs per box. 5 cards per pack.

PRODUCT HIGHLIGHTS
- Look for Rated Rookies Signatures Fast Break of Zion Williamson, Ja Morant, RJ Barrett, Rui Hachimura, and more!
- Collect a wide array of stunning parallel cards, including Pink (#'d/20), Gold (#'d/10), and Black (#'d/1)!
- Find the top rookies from the NBA Draft in the the popular Rated Rookies set!
- Collect the Fast Break Signatures set, which includes superstars from the league -- old and new!
- Look for the following exclusive Holo Fast Break opti-chrome inserts: Elite Dominators, All-Stars, The Rookies, All Clear for Takeoff, Star Gazing, and Rainmakers!