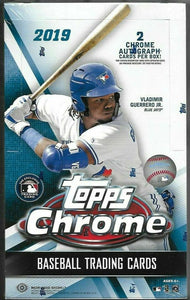 Configuration: 24 packs per box. 4 cards per pack.
Topps Chrome Baseball will be back in 2019, bigger and better than ever, showcasing the season's biggest debuting stars with rookie cards and ON-CARD rookie autographs.
A rainbow of colorful chrome parallels will be featured along with new insert subsets, and autograph content revolving around the game's brightest young stars.
EACH HOBBY BOX WILL FEATURE TWO AUTOGRAPH CARDS