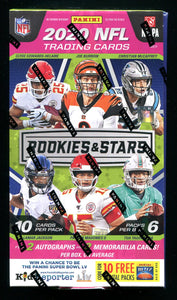 Configuration: 6 packs per box. 10 cards per pack.

PRODUCT HIGHLIGHTS
- Rookies & Stars 2020! Collect the league's biggest and brightest in this long-heralded collection!
- On average, each box of Rookies & Stars delivers two autographs & two memorabilia!
- Collect Crusade, one of the trading card world's most iconic inserts!
- Exclusive to Hobby, collect Dress For Success, an autographed memorabilia card, featuring the top players from the 2020 NFL Draft Class!
- Be on the hunt for short-printed Opti-Chrome autograph parallels of Crusade, Great American Heroes, Airborne & Stellar Rookies!

BOX BREAK:
- 2 Autograph Cards
- 2 Memorabilia Cards
- 22 Inserts
- 12 Rookies
- 5 #'d Parallels