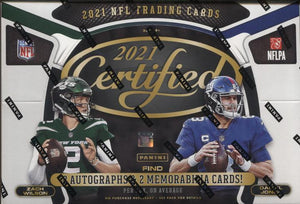 Configuration: 10 packs per box. 5 cards per pack.

PRODUCT HIGHLIGHTS
- A cornerstone of the Hobby, Certified Football returns with both classic and brand-new inserts for the 2021 season.
- Chase Rookie Patch Autographs of the top rookies from the deep 2021 NFL Draft Class with Freshman Fabric Signatures. Featuring Jumbo Swatches and a classic design, Freshman Fabric Signatures has become a staple of the hobby.
- Be on the look out for these brand-new inserts in Certified 2021: SSP Certified Air, SSP Certified Ground, Dark Horses, Canton Certified Signatures, Pieces of the Game & Pieces of the Game Signatures
- Chase unique memorabilia in Pieces of the game and Pieces of the Game Signatures, featuring oversized patches and unique Die-Cuts, Pieces of the Game is sure to be a fan favorite.
- Find one Freshman Fabric Signature in every box!

BOX BREAK
- 1 Freshman Fabrics Signature
- 1 Additional Autograph
- 2 Memorabilia
- 10 Inserts
- 2 Rookies Or Rookie Parallels