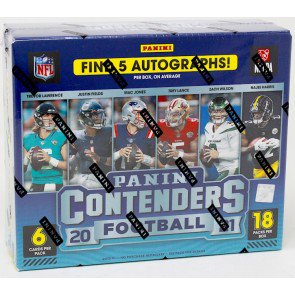 Configuration:18 packs per box. 6 cards per pack.

PRODUCT HIGHLIGHTS
- Chase the iconic Rookie Tickets which feature on-card autographs from all the best and brightest young talent the NFL has to offer which include Trevor Lawrence, Justin Fields, Najee Harris, DeVonta Smith and many more!
- Hunt for the Rookie Ticket Variations as well, which have unique photography and characteristics from the regular Rookie Ticket.
- Look for the Hobby-exclusive Rookie Clear Ticket, SSP Rookie Clear Ticket Mosaic, and the brand new Rookie Ticket RPS Reverse!
- Look for brand new inserts in 2021 Contenders such as, Gladiators, Chain Movers, Power Players, Supernatural, and Playoff Tickets.
- Search for insert autographs from the best of the best in NFL Ink, Legendary Contenders Autographs, MVP Contenders Autographs, Coaches Ticket and Sunday Ticket Signatures!
BOX BREAK:
- 5 Autographs (1 On-Card)
- 1 Parallel
- 18 Inserts