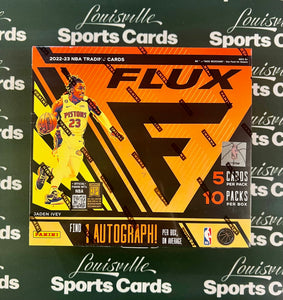 Configuration: 10 packs per box. 5 cards per pack.
PRODUCT HIGHLIGHTS
- Flux returns to the basketball calendar featuring the top superstars and rookies! Look for exclusive content including Parallels, Inserts and Autographs presented on opti-chrome!
- Flux features a 250 card base set, made up of 200 Veterans and 50 Rookies! Look for Hobby-Exclusive parallels including Red, Blue (#'d/99) , Supernova (#'d/75), Sunrise, Moonlight, Solar Eclipse (#'d/49) , Lunar Eclipse (#'d/25), Gold (#'d/10), Green (#'d/5) and the Gold Vinyl One-of-One!
- Hobby Boxes are the only place to find the Titan cards and its Parallels!
- Look for randomly inserted Hobby-Exclusive Autographs that can be found in Red (#'d/49), Gold (#'d/10) and the Gold Vinyl One-of-One parallels!
- Search for the ultra-rare case hit, Full Capacity!
Box Break:
1 Autograph
20 Inserts/Parallels