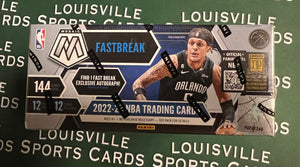 Configuration: 12 packs per box. 12 cards per pack.
PRODUCT HIGHLIGHTS
- Mosaic returns with a collection of its popular parallels, autographs, and inserts! Find 1 Autograph, 11 Prizms, 5 inserts, and 1 Rookie Variation in each Fast Break Box, on average!
- Collectors can chase after a wide range of parallels including Fast Break-Exclusive Mosaic Fast Break Silver, Blue (#'d/85), Purple (#'d/50), Pink (#'d/20), Gold (#'d/10), and the One-of-One Mosaic Fast Break Black!
- Find Fast Break-Exclusive Autographs of the top NBA stars in Autographs Fast Break! Search for the new exclusive Autographs Fast Break Red (#'d/49) and Autographs Fast Break Blue (#'d/25) Parallels!
- The following Insert sets can be found in an exclusive Fast Break parallel: Breakaway, Stare Masters, Noteriety, Introductions, and Montage!
Box Break:
- 1 Autograph
- 11 Prizms
- 5 Inserts
- 1 Rookie Variation