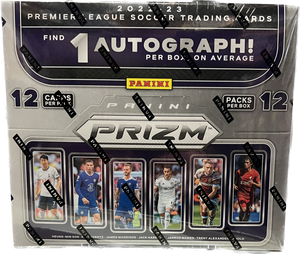 Configuration: 12 packs per box. 12 cards per pack.
PRODUCT HIGHLIGHTS
- The iconic Prizm returns to the Premier League for the 2022-23 season. This pairing of the uber-popular Opti-chrome printing technology and one of the world's best leagues is a collector's dream.
- Look for a 300-card base set featuring popular players from all 20 teams. There are many Hobby-exclusive parallels to collect, including the elusive Prizms Black (#'d 1/1).
- Collect fan-favorite footballers in inserts including the brand new Fractal and Kaleidoscopic.
- Find a deep roster of signers, from club legends to the stars of today. Open one certified autograph per box.
- Hunt for the ultra-rare and incomparable Color Blast cards. Also, be on the look out for a new limited insert, Groovy, paying homage to the swinging '60s and '70s.
Box Break:
- 1 Autographed Card
- 4 Base Prizms Silver
- 5 Numbered Base Prizms
- 8 Additional Base Prizms
- 6 Insert Cards