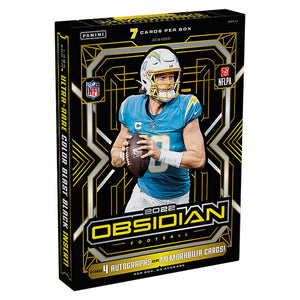 Configuration: 1 pack per box. 7 cards per pack.
PRODUCT HIGHLIGHTS
- Obsidian Football is back in 2022, with sleek, black opti-chrome technology paired with Electric Etched parallels to provide collectors a stunning look unlike any other product!
- Chase some of the best veteran, retired, and up-and-coming players autographs in Matrix Material Autos, Lightning Strike, and Aurora Autos!
- Returning in 2022- Look for the always-popular inserts such as Color Blast Black, Tunnel Vision, Supernova, and Vitreous! Additionally, be on the lookout for brand new inserts Magmatic Signatures, Orbital, and Galaxy Ink!
- Find all-new Electric Etch Neon Mojo parallels, #'d/5!
- Find patch autographs from all the top 2022 NFL rookies, including Kenny Pickett, Aidan Hutchinson, Ahmad "Sauce" Gardner, Treylon Burks, and many more!
Box Break:
- 4 Autos Or Mem
- 2 Parallels Or Inserts
- 1 Base