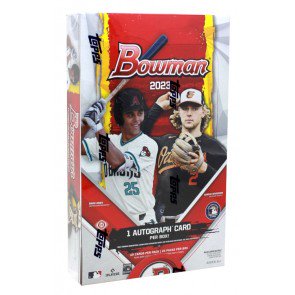 Configuration: 24 packs per box. 10 cards per pack.
PRODUCT HIGHLIGHTS
- Another year, another fresh crop of prospects and the emergence of an all-new set of exciting Bowman designs with 2023 Bowman Baseball!
- Collect the entire 100-card Base Set comprised of top stars and rookies as well as the 150-card Bowman Prospect set!
- The beloved Chrome Prospect Autographs are back with first time MLB signatures of many players!
Box Break:
- 1 Autograph