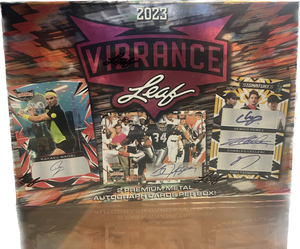 Configuration: 1 pack per box. 2 card per pack.
PRODUCT HIGHLIGHTS
- Leaf Trading Cards is proud to announce the return of 2022 Leaf Vibrance Multisport!
- Look for amazing enhncments and exciting new signers for 2023!
- Look for new signers such as Rafael Nadal, James Harden, Charles Leclerc, Kevin Durant, and many more!
Box Break:
- 2 Autographs