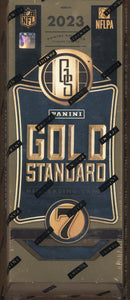 Configuration: 1 pack per box. 7 cards per pack.
PRODUCT HIGHLIGHTS
- 2023 Gold Standard football is loaded with all the top rookies, veterans, and retired stars the NFL has to offer.
- Look for Rookie Jersey Autographs of all the top drafted 2023 Rookies! Also find the short-printed Rookie Jersey Autographs Double and Rookie Jersey Autographs Triple, which feature multiple swatches and parallel to Prime (max #'d /49) and Tag (#'d 1/1)!
- New in 2023, look for brand new inserts Alchemist Autographs and Midas Touch, featuring signatures from the game's best, both past and present. Also be on the lookout for the new Citrine parallel for Base and Rookies sets!
- Chase Gold Jacket Signatures, 24K Autographs, and 10K Autographs, featuring Hall of Famers and other NFL greats from the League's past!
- Returning in '23- Find memorabilia cards in Heart of Gold Threads, Gold Gear, Gold Rush, White Gold, Mother Lode. Each of these cards parallel to prime versions (max #'d/24) and premium versions (#'d 1/1).
Box Break:
- 5 Autographs or Memorabilia
- 2 Base or Base Parallels