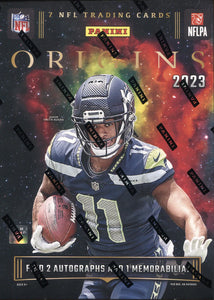 Configuration: 1 pack per box. 7 cards per pack.
PRODUCT HIGHLIGHTS
- The vibrant, art-inspired juggernaut that is Origins Football returns for 2023 with some of the season's first NFL Rookie Cards, on-card rookie autographs, and colorful inserts featuring the game's top stars and legends.
- Chase Origins' now-iconic rookie autograph inclusions such as Rookie Autographs, Rookie Jumbo Patch Autographs, Rookie Stars Dual Patch Autograph Booklets, Dual Rookie Autographs and Triple Rookie Autographs.
- Look for the ultra-rare and hobby-only Blank Slate, Origin Story and Primordial SSP inserts.
- Find a captivating insert roster that includes Origins of Greatness Booklet Autographs, Rise to the Hall, Hometown Roots, Future Fabrics, Proving Ground Signatures and much more.
Box Break:
- 1 Jumbo Rookie Jersey Autograph
- 1 Additional Autograph
- 1 Memorabilia Card
- 2 Base Cards/Rookie Cards/Rookie Variations
- 2 Base Parallels