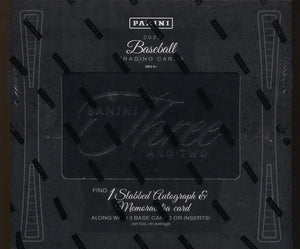 Configuration: 1 packs per box. 5 cards per pack.
PRODUCT HIGHLIGHTS
- Find one slabbed autograph and one slabbed memorabilia card in every box.
- Look for a variety of soon to be stars and former greats across multiple autograph sets including Day One Autographs and Hall of Fame Signature Swatches.
- Find prime and legendary memorabilia across 5 sets from numerous top 100 prospects and greats of the game.
- 2023 features a variety of new insert sets including Contemporaries, On the Horizon, Sluggers and more.
- Hunt for the NEW ultra rare insert Spotlight Spikes.
Box Break:
- 1 Slabbed Autograph
- 1 Slabbed Memorabilia
- 3 Base Or Insert Cards