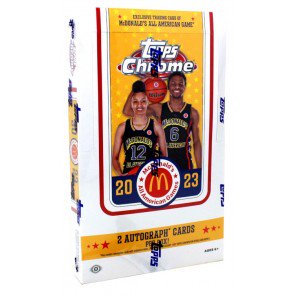 Configuration: 20 packs per box. 4 cards per pack.
PRODUCT HIGHLIGHTS
- 2023 Topps Chrome McDonald's All American Game continues to serve collectors as one of THE top places to prospect young basketball talent with some of the first cards for these future stars!
- Collect all the East and West All Americans across the 100-card base set!
Box Break:
- 2 Autographs
- 1 McDonalds Logo Parallel
- 6 Base Card Refractor Parallels