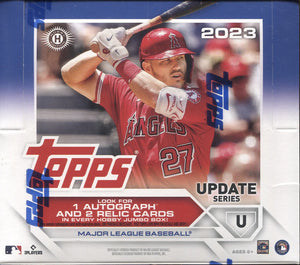 Configuration: 10 packs per box. 46 cards per pack. + 2 silver packs per box.
PRODUCT HIGHLIGHTS
- The excitement of the 2023 Major League Baseball season continues in Topps Baseball Update Series.
- Collectors will find cards of familiar faces in new uniforms, brand new rookies celebrating their recent MLB debuts and cards capturing the festivities of the MLB All Star Game and Home Run Derby from Seattle, Washington.
- Fans can also find autograph and relic cards from the stars of today, young emerging rookies, and legendary players.
Box Break:
- 1 Autograph
- 1 Relic
- 1 Hobby Exclusive Manufactured Item Card
- 1 Oversized Big baseball Card or Cello Wrapped Auto Variation